Skip to Main Content
It looks like you're using Internet Explorer 11 or older. This website works best with modern browsers such as the latest versions of Chrome, Firefox, Safari, and Edge. If you continue with this browser, you may see unexpected results.
Websites
Covid-19: Teen Perspectives from All Over the World by Maya Anandan - Grade 8

"When the second lockdown began, I decided that I would use my free time to record what was happening around the world through the perspective of kids just like me! I put together a questionnaire asking how everyone was dealing with the pandemic, and I sent it to all my friends around the world. I put together this website."
Infographics
By Yuna Song - Grade 9
Essays
My Experience in Quarantine by Anonymous - Grade 10

"When a teacher is just checking in, making sure the assignments are getting done, I think they're mad at me that I haven't done it, or simply critiquing my work to make me a better student, I believe they hate it. I have woken up, just to check my email and break down in an anxiety attack and cry for hours."

My Story by Mckenna Gareau - Grade 10

"What has probably changed the most for me has not been the pandemic in itself, but how each and every one of us have adapted our lives to help prevent the spread of the virus."
Artwork
Drawing
This piece was inspired by a host of sources, most notably this book I read for English called
The Yellow Wallpaper
(by Charlotte Perkins Gilman). In the book, a woman is trapped in her room all day and night until she slowly starts to go crazy and begins hallucinating patterns and people in the wall. I thought the story made for an interesting visual, and it definitely seemed relevant to our current situation. Since I've been home all day, I've noticed that I've started to slowly go a little more stir-crazy each day, and in this piece I wanted to hint at the worst possible case of that craziness. I used the red writing to represent the characters' thoughts, and used the images on the phone to represent their situation.
Rayyan Al Kharusi - Grade 9
"The Heist"
For my piece, I placed hand sanitizer, toilet paper, and masks on a display case. Hands are reaching for these supplies - the absurd amount of toilet paper people have been buying, cutting off access of masks to Canada, in order for America to have more - and hand sanitizer selling out and the new DIY tricks and home remedies everybody is sharing. Despite this, there is a constant fight as to who should get what. First responders are left with nothing, elderly people the same. People going for toilet paper is as if it is Black Friday in America every day. This was my observational piece, drawn on Procreate. The hands are compiled images, not painted.
GaHyun Lee - Grade 9
Untitled
This picture I took using the lens in the door. I told my brother to wear a mask to give a sense of how people go out nowadays. And by using the lens in the door, I thought that it would relay the message of how people are scared and worried about meeting new people/people they don't know due to the coronavirus (To tell how we are very strict of who we meet today and how nowadays opening door to stranger or even people from outside that we know is dangerous).
Entertainment Pack from MS Yearbook and Drama Classes
Artwork
Maria

(Ina)

Andreina

Centeno

Tortolero - Grade 9
"The Basket"
For this photograph I was walking through the small supermarket that we have in my building complex. In one of the isles I found a woman shopping and one of the workers organizing the supplies for us. I wanted to show the situation of both the people that must stay at home and those who are out there providing services for us.[...]
Published in the New York Times
Your Advice for the Class of 2020 - featuring Mrinalini Wadhwa - Grade 12

"The world we are about to enter into is fractured. Old divisions, old prejudices, old tensions flare alongside this pandemic. But we know that these fractures are neither the world's destiny nor its potential. Each of us will find a way to make something beautiful out of the different worlds we enter as we leave this shared one. I know I am so looking forward to seeing you all in person someday soon and hearing about them."
MS Magazine: Eye of the Tiger
Artwork
Mallika Narayan - Grade 9
"Obsession"
Painting
For my artwork, I was aiming for the idea that now, during COVID-19, we as human beings are scared. We're stacking on items that give us comfort like food, hand sanitizers and toilet paper. Out of all of these, toilet paper seems to be the one that's never in stock because whenever it is, it's sold out very quickly. In my piece, I showed how people are so attached to having dozens of toilet paper that it's become an obsession. They view toilet paper as if it's gold that needs chaining so that others don't steal it.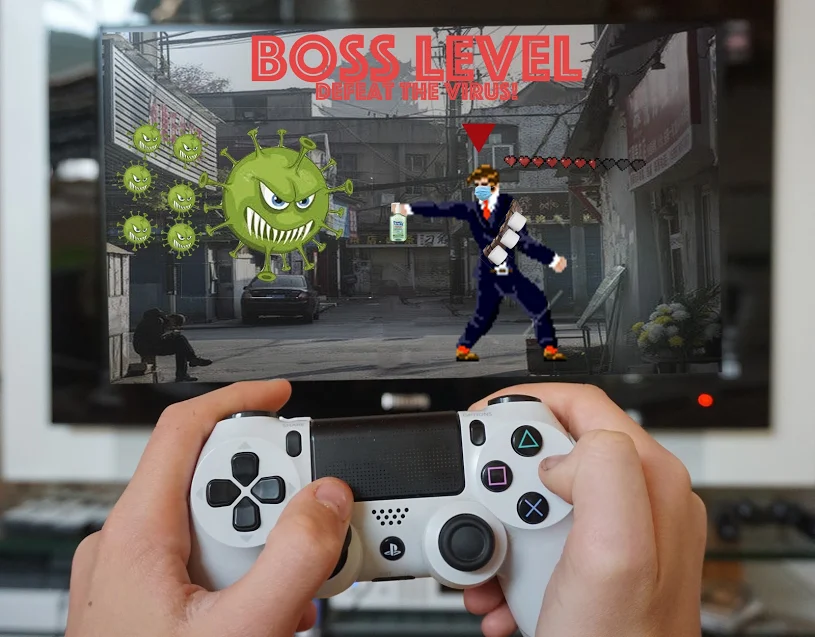 Tomas Arizti - Grade 9
"Boss Level"
This is a photoshop [collage] where I merged a picture of my tv with my video game remote controller and then I added different objects and texts to give the idea that it was a video game. [...] Everytime I went outside it felt like I was in a video game and everything seems so surreal. I was also making fun of how everybody keeps on buying toilet paper by making it look like it's ammo. This is mainly a comment on what it's like to live through Corona Virus [...]. The main character has a mask on and is holding hand sanitizer like a gun supposedly attacking the virus. What I want people to get out of this is that fear is what mainly is what is spreading and how people are meant to take the virus very seriously of course, but rather to not let fear rule their lives. This image is kind of making a joke out of this virus since it seems like it is an apocalypse video game
.
"The Fight"
I used charcoal, acrylic paints and white/black pens to make this artwork. This is made to show how people are fighting against COVID 19 and trying to resolve this situation. These people in hazmat suits are helping to do this.
HS Magazine: The Roar
The Roar: Summer 2020

"hope.
With the summer marking the end of a school year that received a conclusion that does not do it justice, we tend to fall into patterns of negativity. But its worth remembering what we still have going for us. One of the themes that emerged this edition was family, and through it, hope– hope where none could seemingly be found."
Artwork
"Closing"
With the pandemic gripping the world many things have become the new normal. Passing closed restaurants and stores are a common sight and might remain the same for a long time. The requirements of staying 6 feet apart is mandatory and is enforced by reminding you everywhere you go. The closed doors reminds us of the shut down and is a grim snap back to reality.
Libguide Creator
Linda Hoiseth, MS/HS Librarian
lhoiseth@aes.ac.in
+91 11 2688 8854 Ext: 3358
Twitter: @lhoiseth
Facebook:
https://www.facebook.com/aesmshslibrary/