Skip to main content
It looks like you're using Internet Explorer 11 or older. This website works best with modern browsers such as the latest versions of Chrome, Firefox, Safari, and Edge. If you continue with this browser, you may see unexpected results.
Annual Report header
The American Embassy School libraries support the AES Mission. The libraries encourage "inspired lifelong learning" and support all areas of the AES curriculum. Literacy, literature appreciation, inquiry, and collaboration are key components of the library programs. Both libraries' welcoming environments provide access to current, relevant resources.
---
You are invited to look at all three pages of this report by clicking on the three tabs above.
Library Internship
| | |
| --- | --- |
| | My name is Simpy Sharma and I am a 3rd-year college student. I am a student council member in TCLP (The Community Library Project). I had an internship at AES which is totally different from my library, and this is a good thing. That's why I learned so much. The first thing I learned is Software; I knew Koha, but now I am familiar with Destiny too. I learned about circulation, cataloging, book purchasing, shelving in the Dewey system, and how to do all things to support the members. We do this in our library, but this much different from us because we are a community and free library and this is a school library and private. I got to know many things which I can use in my library. And in my personal life, I learned traveling, being independent, and a bit confident. |
Book Launch!
The library was proud to host a virtual book launch for AES senior Mihir Dhawan's first novel, Order of Chivalry. He was interviewed by Neha Kaul, and talked about his motivations for writing the book and his writing process. Over 50 people attended the launch, and they asked some fantastic questions.
The proceeds of Mihir's book all go to support The Community Library Project.
The Community Library Project

The Community Library Project believes all people should have access to books. We are a low-cost, volunteer-driven, citizen initiative. We are committed to the work of building the movement for a publicly owned library system that is accessible to all.
Hi,
I just wanted to write to thank you for your help on the ancient civilization project. Your feedback has been extremely helpful, and your presentation on using library resources really helped me remember how many different resources we have at our disposal. So thanks!

xxxxx
Used Book Giveaways
Every year we accept donations from AES families, and we weed books that are no longer required in our library collections. We weren't able to host our regular used book sales this year, so we did something even better - we gave books away! Students, faculty, and staff were able to simply take what they wanted. In addition, a number of non-profit organizations were able to select books for their libraries, schools, or organizations.
The organizations that accepted donations this year included The Community Library Project, the American Welcome Association, Teach for India, Tibetan Children's Village, the UN Kindergarten Library, the Vivekanand Camp Library, the Virmani Education Trust, and the Mayur Public School.
The Community Library Project

The Community Library Project believes all people should have access to books. We are a low-cost, volunteer-driven, citizen initiative. We are committed to the work of building the movement for a publicly owned library system that is accessible to all.

Tibetan Children's Village

"Tibetan Children's Village has today become a thriving, integrated educational community for destitute Tibetan children in exile, as well as for hundreds of those escaping from Tibet every year."

AWA Delhi

"Formed in 1947, we are your resource for support and friendship with other fellow Americans and your central point for learning about India and volunteering with local charities."

Teach for India

"At Teach For India, we believe leadership for education is the solution. We are building a movement of leaders who will eliminate educational inequity in India."
New Books for Global Citizens
Give and take : a revolutionary approach to success

by

Call Number: 158.2 GRA

ISBN: 9780670026555

Publication Date: 2014

Examines what makes some people successful while others fail; categorizes people as givers, matchers, or takers; and discusses how things like effective networking, collaboration, and negotiation can influence personal success, both in life and at work.

Greta's story : the schoolgirl who went on strike to save the planet

by

Call Number: 363.738 CAM

ISBN: 9781471190650

Publication Date: 2019

"It's 20 August 2018, late summer in Stockholm, and it feels incredibly hot in the city. The TV news reports rising temperatures, and there have been numerous fires throughout Sweden. Fifteen-year-old Greta Thunberg decides she can't wait any longer: politicians have to do something to save the environment. Instead of returning to school, Greta takes a placard and goes on strike in front of Sweden's parliament building. Greta's protest began the 'Fridays for Future'--or 'School Strike 4 Climate'--movement, which millions have now joined around the world. Greta has spoken at COP24, the UN summit on climate change, and has been nominated for the Nobel Peace Prize. This is her story, but also that of many other girls and boys around the world willing to fight against the indifference of the powerful for a better future"--Amazon.com.

Originals : how non-conformists change the world

by

Call Number: 153.35 GRA

ISBN: 9780753548080

Publication Date: 2017.

"Addresses the challenge of improving the world, but now from the perspective of becoming original: choosing to champion novel ideas and values that go against the grain, battle conformity, and buck outdated traditions."--Provided by publisher.

Think again : the power of knowing what you don't know

by

Call Number: 153.4 GRA

ISBN: 9780753553893

Publication Date: 2021

"Think Again is a book about the benefit of doubt, and about how we can get better at embracing the unknown and the joy of being wrong. Evidence has shown that creative geniuses are not attached to one identity but constantly willing to rethink their stances, that leaders who admit they don't know something and seek critical feedback lead more productive and innovative teams, and that our greatest presidents have been open to updating their views. The new science of intellectual humility shows that as a mindset and a skillset, rethinking can be taught, and Grant explains how to develop the necessary qualities. The first section of the book explores why we struggle to think again and how we can improve individually, and argues that such engines of success as 'grit' can actually be counterproductive; the second section discusses how we can help others think again through the skill of 'argument literacy'; and the third looks at how institutions like schools, business, and governments fall short in building cultures that encourage rethinking" -- Provided by publisher.

We Are Power

by

ISBN: 9781419741111

Publication Date: 2020-04-07

"'We Are Power' brings to light the incredible individuals who have used nonviolent activism to change the world. The book explores questions such as what is nonviolent resistance and how does it work? In an age when armies are stronger than ever before, when guns seem to be everywhere, how can people confront their adversaries without resorting to violence themselves? Through key international movements-from the freedom of India from British rule to American labor unions and civil rights to actions taken by high school and college students around the world-this book discusses the components of nonviolent resistance. It answers the question 'Why nonviolence?' by showing how nonviolent movements have succeeded again and again in a variety of ways, in all sorts of places, and always in the face of overwhelming odds"--Provided by publisher.
8th Grade Author Visit
The 8th-grade students read Dear Mrs. Naidu as part of the PeOPle Project, and had the fantastic opportunity to meet with the book's author Dr. Mathangi Subramaniam. She helped them understand the importance of doing quality, ethical research when learning about people and their communities. We are hopeful this is a relationship that will continue for years to come!
Dear Mrs. Naidu

by

ISBN: 9789383074983

Publication Date: 2019

Twelve-year-old Sarojini's best friend, Amir, might not be her best friend any more. Ever since Amir moved out of the basti and started going to a posh private school, it seems like he and Sarojini have nothing in common. Then Sarojini finds out about the Right to Education, a law that might help her get a free seat at Amir's school - or, better yet, convince him to come back to a new and improved version of the government school they went to together. As she struggles to keep her best friend, Sarojini gets help from some unexpected characters, including Deepti, a feisty classmate who lives at a construction site; Vimala Madam, a human rights lawyer who might also be an evil genius; and Mrs. Sarojini Naidu, a long-dead freedom fighter who becomes Sarojini's secret pen pal. Told through letters to Mrs. Naidu, this is the story of how Sarojini learns to fight - for her friendship, her family, and her future.
Partnership with TCLP
The AES Libraries continue to support the work of The Community Library Project as much as possible. Again this year we sponsored a TCLP intern and donated books to their libraries. Linda Hoiseth and MS teacher Jeni Henderson presented a workshop on raising readers at the TCLP Free Libraries Workshop.
The Community Library Project

The Community Library Project believes all people should have access to books. We are a low-cost, volunteer-driven, citizen initiative. We are committed to the work of building the movement for a publicly owned library system that is accessible to all.

UN SDGS: SPENDING OUR PRIVILEGE

Linda Hoiseth was invited to write a blog post for the Global Literature in Libraries Initiative series on promoting the UN Sustainable Development Goals in international school libraries. This post focuses on AES's relationship with The Community Library Project.
Vivekanand Camp Library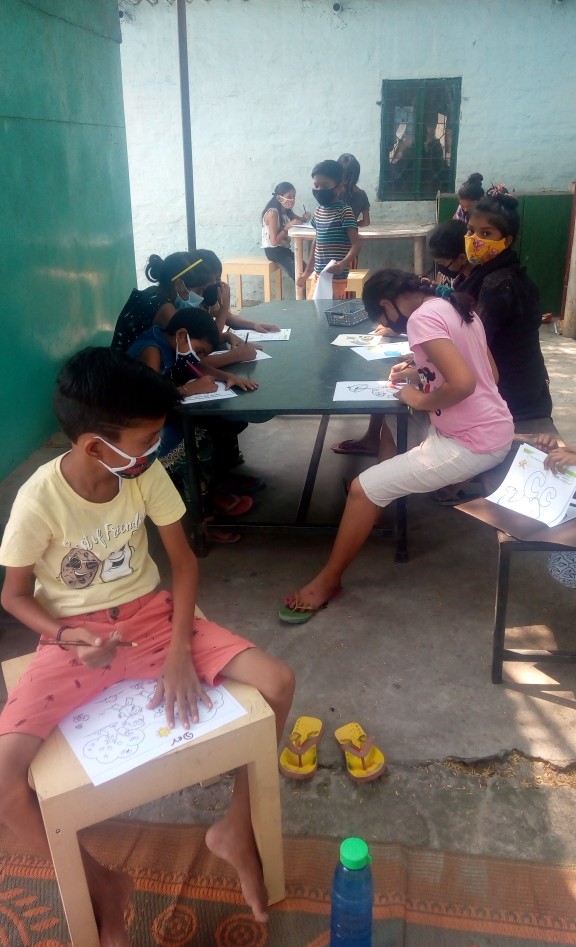 .
AES continued to support the Vivekanand Camp Library, even though COVID prevented volunteers from participating in person. The librarian Balu (who works in the AES central depository) opened the library each week, and each week dozens of children came to read and borrow books.
Dear Mrs. Hoiseth,
I just want to say that I appreciate your help so much. I'm really bad at finding sources, and even before you have helped me out a lot (with not necessarily sources, but with sora, and books as well).
Thank you again,
xxxxxx
Laurie Halse Anderson on Consent
Laurie Halse Anderson presented a session for our high school students on the very important topic of consent. Dozens of students and teachers stayed well beyond the 45-minutes allotted for the session to learn more and ask questions.
A recording of this session is available to members of the AES community. If you'd like the link, email Linda Hoiseth.
Speak

by

Call Number: B Anderson

Publication Date: 2011

A traumatic event near the end of the summer has a devastating effect on Melinda's freshman year in high school.

Shout

by

Call Number: B Anderson

Publication Date: 2019

Anderson shares reflections, rants, and calls to action woven between deeply personal stories from her life that she's never written about before. Searing and soul-searching, this important memoir is a denouncement of our society's failures and a love letter to all the people with the courage to say #MeToo and #TimesUp, whether aloud, online, or only in their own hearts.
"I really liked how Laurie spoke on a lot of topics which usually makes people feel uncomfortable, like about sex and consent when doing anything sexual. She also spoke about rejection and how schools should discuss more about it to prevent any sexual harassment from the "embarrassment", and I thought that was really interesting because I would just think of talking more about consent but not really the idea of rejection." - Grade 10 student
Stein Library Team
Linda Hoiseth, Murari Sharma, Anita Saigal, Simpy Sharma, Ravinder Choudhary, Gaurav Bisht
Libguide Creator
Linda Hoiseth, MS/HS Librarian
lhoiseth@aes.ac.in
+91 11 2688 8854 Ext: 3358
Twitter: @lhoiseth
Facebook:
https://www.facebook.com/aesmshslibrary/